OpenText Extended ECM for Microsoft Office 365 offers smooth integration with Microsoft Teams (MS Teams). By exposing Extended ECM workspaces within MS Teams, users will be able to work with content in a seamless way across systems, gaining easier access to the information.
While this surely helps bridge content silos, it might not automatically accelerate digital processes.
It's certainly great that users can retrieve content from one integrated interface, but teams work better when everyone – not just content – is on the same page.
So how can you fully enable project teams to expedite information flow? In other words, how can you maintain a productive workforce across integrated systems?
From Uncoordinated Conversation, to Process-driven Collaboration
Teams often form to collaborate on specific tasks. Therefore, it's key to enrich chat-based interactions with the option to create and manage tasks within structured processes.
Thanks to Module Suite, you can now modernize your team's operations by building tailored applications on OpenText Extended ECM that embed directly in MS Teams:
Module Suite, OpenText Solution Extension of the Year 2020
In a nutshell, Module Suite is an innovative add-on that allows you to extend, enhance and tailor OpenText Content Suite & Extended ECM to your individual needs.
It offers a blend of capabilities that are critical to implementing process automation and building workplace applications not just on top of your ECM platform but also across the extended ecosystem connected to it.
Boosting the MS Teams Integration
The video below shows a Contract Management Application built with Module Suite on OpenText Extended ECM and integrated with MS Teams. The aim of the application is to:
automate the creation of Sales contracts (Service Agreements) while ensuring their compliance

enable closer collaboration between Sales & Legal
The application itself took only 5 days to develop on OpenText Extended ECM, while the integration with Teams was executed in 5 minutes.
See the Module Suite in action:
A Pool of Benefits
Hubtastic UX: the Module Suite Application offers single-page informative UIs that make it easy for users to retrieve all the information they need without searching for content or switching systems.
At the same time, it also prevents users from becoming overwhelmed with information as each participant only sees what is needed to do their task. This is even more relevant when considering that channels in MS Teams can easily cause unmanaged content sprawl (chats, file attachments, etc.).
External System Integration: not all data relevant to a team is housed inside OpenText Content Suite. Information relating to customers may reside in other systems like ERPs or CRMs. Module Suite can easily integrate external data sources within the application, further enriching UIs and simplifying the navigation experience.
Segmented Permissions: project teams will likely include different departments and roles, however not all information is appropriate to share with everyone. To avoid sharing sensitive content with the wrong people can be challenging in MS Teams. This can be easily overcome with Module Suite, thanks to its role-based views within applications
Your Personal App Factory
Currently, the standard OpenText-MS Teams integration provides one application whose purpose is to connect workspaces to a new or existing MS Teams channel.
Module Suite takes this to the next level allowing for the integration of countless applications. A 69-line script is all it takes for your Apps to proliferate and flourish on MS Teams.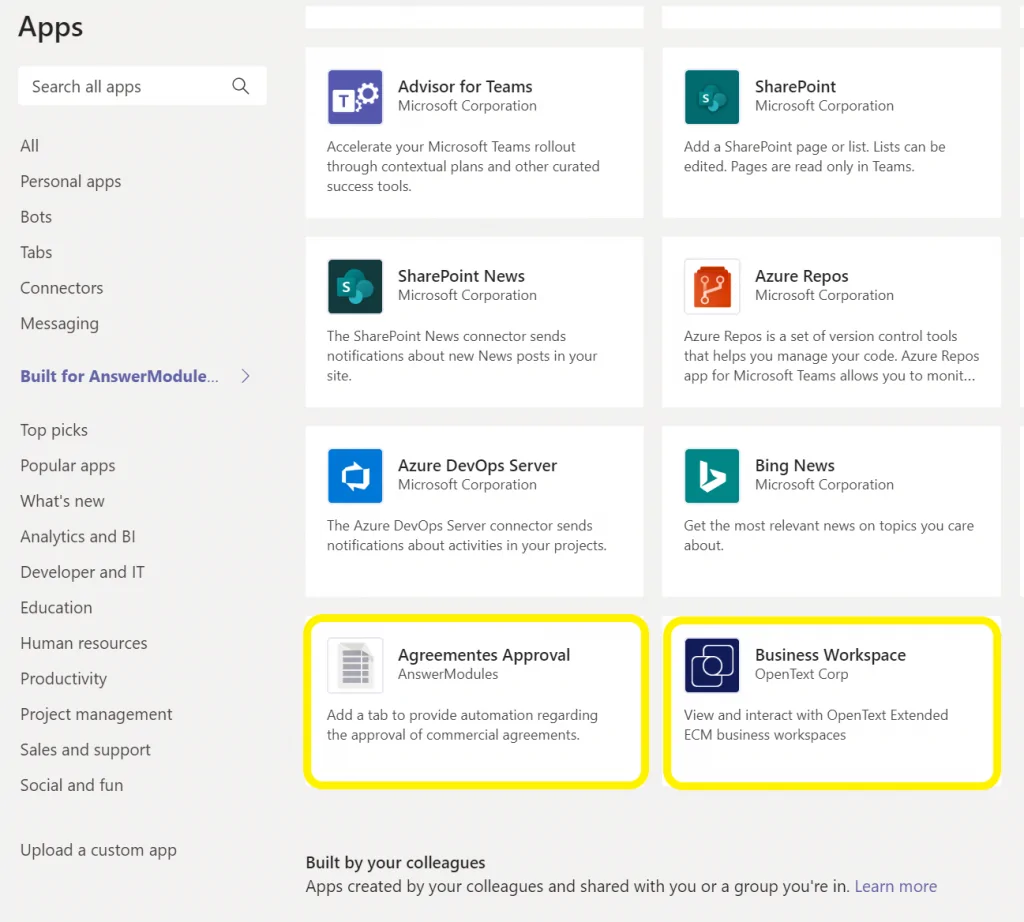 The implications to this are huge: you could embed whole verticals inside MS Teams channels or create micro-applications for specific projects; you could automate mundane tasks for individual workers via the "Personal App" tab in MS Teams; or integrate applications for remote access to enable collaboration with workers operating in the field.
Maximum Team Output with Minimal Dev. Input
Module Suite accelerates the delivery of business value thanks to a groundbreaking low-coding technology that offers a simple alternative to cumbersome OScript / WebReports developments.
The Perfect Trilogy
While for organizations it remains vital to centralize content on OpenText Content Suite & Extended ECM, Module Suite becomes the enabling component for the creation of applications both on the platform and across integrated systems.
By delivering ad-hoc requirements and specialist features, end users can benefit from focused solutions that meet their specific business challenges, no matter how complex they may be.
Module Suite then constitutes a key element to complete a perfect trilogy: Content Suite is the single source of truth, Module Suite is the underlying motor for process automation, while MS Teams is the outer limits for increased collaboration.
The result is an outstanding integration that fuels business processes, boosts user productivity, and keeps teams engaged.
 Test Module Suite against your specific use case! If you're already a customer, please contact your AnswerModules Sales Rep. Alternatively, drop us a line at info@answermodules.com to request a tailored demo