The third edition of AnswerModules User Group was an excellent chance to gain insights into Module Suite. Our CEO & CTO, Patrick Vitali, also took the opportunity to highlight the most recent developments and offer a glimpse into what lies ahead. For those who could not attend in person, we are eager to provide a summary of the main highlights.
Module Suite 2.6.0: End of Maintenance
Module Suite 2.6.0 is approaching the end of its maintenance phase, scheduled for December. After this date, no further updates or support will be available for this version. We highly recommend all Module Suite users currently relying on Module Suite 2.6.0 to promptly plan and carry out an upgrade to our latest version.
By taking this step, you'll enjoy several advantages, including enhanced features, improved security, and ongoing support. Our team is committed to facilitating a seamless transition and is ready to address any questions or concerns you may have regarding the upgrading process.
Module Suite 3.5 (Rome): A short recap
LLM Extension Package
Module Suite 3.5 introduces a cutting-edge extension designed to facilitate integration with various service providers, particularly OpenAI. It allows customers to quickly experiment with the latest technology.
The benefits of this extension include: immediate integration into leading service providers, versatility in supporting common LLM usage scenarios, such as generative AI for document creation, and knowledge base building, adaptability to various APIs, although it currently supports only OpenAI.
Additionally, this extension is used as the foundation for C.A.R.L., our Module Suite copilot, deeply integrated into the suite's tools.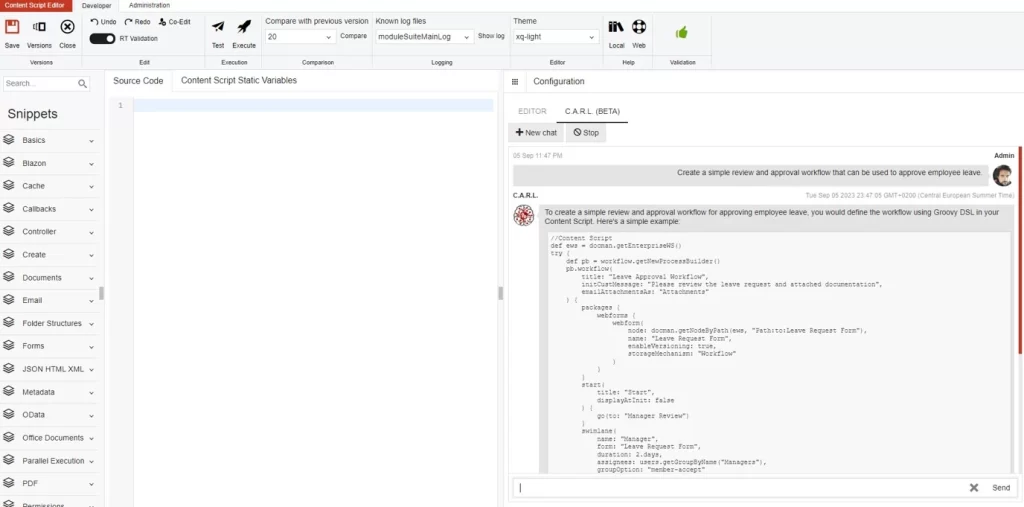 RMSEC Extension Package
Module Suite 3.5 also includes a robust extension package designed to harness the full potential of Recman security APIs. This package ensures consistent security checks that mirror those implemented through the user interface.
The advantages of this extension encompass enhanced security for managing records, consistent application of security protocols regardless of the access method used (whether through an API or the user interface), seamless integration into current Recman systems to enhance their security capabilities, and peace of mind for users by ensuring the highest level of security for their records, regardless of their access point.
WCAG Library of Widgets
A comprehensive widget library focused on achieving WCAG (Web Content Accessibility Guidelines) compliance has been introduced to empower users to build accessible forms that adhere to global web accessibility standards.
Key Points:
Accessibility: The widget library ensures form accessibility to users with disabilities, thereby promoting inclusivity.
WCAG Compliance: Aligning with international web accessibility guidelines, it ensures that your forms meet worldwide standards.
Ease of Use: Users can easily create accessible forms using pre-made, compliant widgets, thereby simplifying the process.
Inclusivity: By using this library, you demonstrate a commitment to providing equal access to all users.
Premium Widgets
To enhance the functionality and customization of user interfaces, an exclusive set of premium high-quality widgets (Accordion with Toolbar, Classifications, ListView, Toolbar, Panel with Toolbar, TreeView etc.) has been added, thereby simplifying the setting up of the application page layouts.
This exclusive set will ensure greater personalization of the user interface, higher efficiency in layout setup for a quicker and more intuitive setup process, plus greater flexibility to meet specific needs.
Module Suite 3.6 (Genève):
In Module Suite 3.6, a brand-new set of premium widgets is set to debut, improving both application functionality and user experience.
The new widgets include: a dynamic and interactive spreadsheet tool for data input, calculations, and more; kanban boards to view tasks, workflows, or processes in a flexible and intuitive way; maps for location-based functionalities and visualizations; schedulers for setting, viewing, and managing events on a daily, weekly, or monthly basis.
Advanced integration with OpenAI API
But, the innovations brought forth by the upcoming Module Suite release won't end there. The integration with the OpenAI API is set to evolve further, with special focus on the innovative features introduced in the chat API.
In fact, this new release will enable the use of chat API functions to specify and fulfil specific tasks, even allowing these functions to be defined as Content Script closures, thus revolutionizing system interactions.
This integration will guarantee seamless communication between the application and OpenAI's capabilities, resulting in enhanced interaction, personalization of OpenAI functions to match unique application requirements and scenarios. Moreover, it guarantees the capability to stay at the forefront of AI technology developments, fostering a culture of continuous innovation.
Beautiful WebForms Updater
The updated WebForm Updater tool will be revamped to smoothly upgrade the web forms created in the previous ModuleSuite versions. It will upgrade multiple views at once, efficiently resolve compatibility issues between widget library versions, and simplify the transition to the latest widgets.
Its benefits include time and effort savings, consistent access to the latest widget features for all webforms, and a user-friendly interface.
A foretaste of Module Suite 3.7 (Zürich): Script Console
In the near future, Script Console will be phased out and re-envisioned as a serverless solution, marking a significant change in our approach to runtime environments.
This shift aims at providing a secure, scalable, and reliable delivery method for our forms, particularly for external users. While the Script Console mainly supported remote webforms, the new serverless solution will enhance this support, streamlining and improving efficiency.
Its benefits include: simplified deployment, effortless scalability to meet user demands, enhanced reliability, as well as increased flexibility and adaptability across various platforms and environments.